Salty Biscuits
Maxs Apple Cheddar
THE MOST AWESOME DOG TREATS EVER CREATED IN THIS GALAXY.
Previous point may be slightly exaggerated by the marketing department
Hearty Dog Treats is an understatement
Has Maximus Gary's seal of approval
Made from Human-Grade ingredients
For the big dogs. Unless you possess vise-like strength in your hands to break them into little bits.
Lab tested and approved
Description

Ingredients

Guaranteed Analysis
Max was involved in the concept, design, and production of these treats from the start. Like any good manager, he said "More Treats," took a lot of naps, and left the heavy lifting to everyone else.
No junk in here, people. Only ingredients that I know and I can pronounce. And it's got our quality seal of approval stamped right into it -- our logo! I know the picture with the logo on the treats is crappy. I told you people before.... this is a one man operation and I'm not about to go across the street, open another bag of treats, take pictures of them, walk back across the street, open them up on my computer, edit them and save them so someone can have a sterile Chewey.com photo to look at for 0.4 seconds. It is what it is.
Anyway, please buy Max's treats. He's been a good boy, and if you don't buy his treats, we won't feed him for a week. That will teach you not to buy his treats because the photo of them is bad.
Treats are heart-shaped and roughly 1-1/2" x 1-1/2" x 1/4"
You may also like: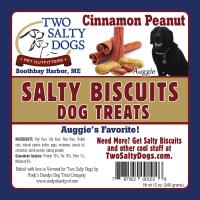 $15.75
Made In Maine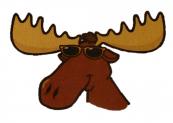 $9.50