Dog Toy Storage Rope Baskets
Handwoven Lobster Line Rope Baskets!
Three Sizes Available. Made from Red and Blue Rope Only at this Time.
Woven From Brand-New Bright Float Rope.
Great for Dog Toy Storage, Hanging Plants, Displays, or just throw a bunch of stuff in them for the local clambake.
Made in Waldoboro Maine USA!
You've seen baskets like these in our shop displaying toys and treats. But these baskets are better. Our baskets were made from government-recalled float rope in an effort to protect Right Whales that would get tangled in it. These are made from brand new rope and are much more colorful and vibrant!
These are made by our pals at Custom Cordage in Waldoboro Maine. Unfortunately, we're only able to offer Red and Blue rope baskets at this time. Check back if you are bent on other color combinations or want to chat.
Sizing:
Large: (19" Long) x (13" Deep) x (9" High)
Medium: (12" High) x (11" Diameter)
Small: (9" High) x (11" Diameter)
You may also like:
Made In Maine

$24.00

$14.75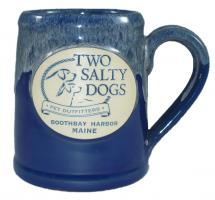 $21.00