Seaweed Supplement for Dogs
Bone & Joint
Contains chondroitin and glucosamine for joint health.
White willow bark is a natural, gentle form of aspirin to help with soreness and inflammation.
Made in Maine.
NOT SAFE for cats because of the willow bark
The VitaminSea Bone and Joint blend is specifically formulated for animals who suffer from stiff, achy bones and joints. The combination of chondroitin, glucosamine, and white willow bark provide a unique mixture that promotes joint health in dogs. With the added benefit of natural seaweed, this product is one the best pet health joint support supplements on the market. We highly recommend this supplement for any dogs who suffer from hip dysplasia and older dogs.
**Do not feed to cats.
Benefits:
Chondroitin helps with joint pain and stiffness, and promotes bone healing.
Glucosamine provides a buffer to help protect against excessive wear and tear of joints.
This also helps tissues elasticity and cushioning effects.
White Willow Bark sooths pain of inflamed joints.
Seaweed provides your pet with nutrients to promote healthy body and youthful demeanor.
Reduces joint pain.
Reduces joint inflammation.
Additional Benefits:
Brighter eyes.
Higher resistance to infections.
Increased healing from injuries.
Influences proper thyroid function.
Improves digestion.
Fewer parasites.
Reduces stress.
Calmer temperaments.
Increases stamina.
Reduces allergy symptoms.
Reduces shedding.
Reduces build up of plaque and tartar.
Boosts immune system.
Improves reproductive performance.
Improves growth rate.
**Do not feed to cats.
You may also like:
Made In Maine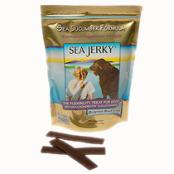 $25.50