Hand-Forged Pet ID Tag
Small Paw
Durable stainless steel tags for pets weighing less than 15lbs.
1/16" thick, 7/8" diameter.
1-3 lines of engraving with a maximum of 12 characters per line.
The tags themselves are hand-cast at New England Castings in Hiram, Maine. To see this amazing process, Click Here.
Polishing and Engraving is done in Brownfield, Maine.
SHIPPING INCLUDED IN PRICE!
Silver Paw tags are the most durable pet ID tag we have ever encountered. These tags are 1/8"-thick, 100% stainless steel, and deep-engraved for longevity. These tags will not corrode, discolor, disfigure, or wear at the edges.
Cheap pet ID tags typically wear out in under a year. That's because the pet's information is stamped onto aluminum. Aluminum is a very soft metal and the thin tags tend to bend and wear quickly. Sometimes the aluminum tags' information wears completely off without the owner knowing it, and the pet is in danger of going unidentified when lost.
On Silver Paw tags, the information is deep-engraved-- material is actually removed from the very hard stainless steel. Much deeper than a stamp can make in the aluminum.
The tags themselves are made at New England Castings in Hiram, ME, and the polishing and engraving is done in Brownfield, ME. Check out how they make these tags here
Specs:
Typically ships in two business days.
1/16" thick duplex 2205 stainless steel.
7/8" diameter.
Weighs 0.20 oz.
Recommended for pets under 15lbs.
1-3 lines of engraving with 12 characters per line max. Spaces count as characters.
Comes with a standard stainless steel split ring, and a 3/4" S-hook for more active dogs.
All tags have a polished, raised graphic with matte front.
Deep-engraved.
Bifang font w/capital or lower case letters.
Thick attachment loop.
Unaffected by daily swims in the ocean. Coal has had one for over a year and a half and it looks like the day we bought it. And he's the swimmingest dog we know.
Lifetime guarantee on the engraving.
Lifetime guarantee on the tag.
You may also like: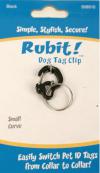 $7.50
Made In Maine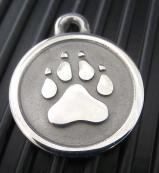 $35.00
Made In Maine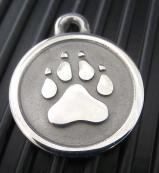 $40.00
Made In Maine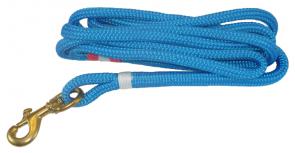 $20.00