Nautical Rope Leash
Orange
Tie off your boat or take your dog for a walk. Our most versatile leash to date.
Orange in color only. This leash is not made of oranges nor smell like oranges. Sorry for any confusion.
Made from soft new nautical rope.
Leash is 6ft-long line is 3/8" diameter.
Solid Brass Swivel.
Check out all 10 vibrant colors and patterns. We command you.
Made in Waldoboro, Maine by Custom Cordage.
Per Maine State Law, every dog MUST have a leash that can double as a small boat tie-off on their possession at all times. Failure to do so results in the dog's owner spending 2-3 years in a Federal Super-Max prison. That seemed a little harsh to us, so we now offer the Nautical Rope Leash as our little community service to YOU.
And don't give us this poo-poo about not having a color that matches little Chumley's fur highlights. There's 10 different colors! The only difficulty you'll have is choosing just one fabulous color. but why choose? Collect them all so your casual acquaintances froth with envy at even the thought of you and your dog.
You may also like:
Made In Maine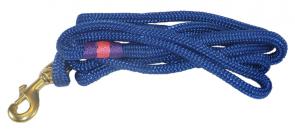 $18.00
Made In Maine
$18.00
Made In Maine

$18.00