Moby Whale (Blue)
Ribbon Dog Leash
6ft long x 5/8", 1", and 1.25" wide.
Ribbons are stitched to rugged and quick-drying nylon webbing.
Call your dog Ishmael! It's a white whale on a ocean blue background.
Patterns are artist-designed right here in Maine.
Brass swivel snap hook won't rust or corrode.
Machine-washable. Line dry.
Made in Maine.
"Think not, is my eleventh commandment; and sleep when you can, is my twelfth." If your dog could speak, these might be the words he would choose. Like Moby Dick, the ways of the dog remain unknowable to a simple man. To try to understand why your dog continues to dig that one corner of the yard is an exercise in futility. Honor him with this collar, also available in pink.
Available in a matching collar
Available in:
5/8" Wide x 6ft Long
and
1" Wide and 6ft Long
1.25" Wide and 6ft Long
You may also like:
Made In Maine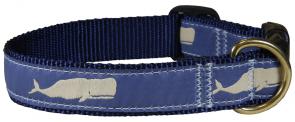 $22.50
Made In Maine

$30.00
Made In Maine

$30.00