Anchor (Blue & Red)
1-inch Ribbon Dog Leash
Metaphorically Anchor Your Dog to Your Heart with this Convenient Leash!
1-inch wide x 6ft nylon leash with a solid brass swivel
Ribbons are stitched to rugged and quick-drying nylon webbing.
Patterns are artist-designed right here in Maine.
Solid brass swivels won't rust or corrode.
Machine-washable.
Made in Maine.
Are you beginning to see a pattern here? Two Salty Dogs has a lot of ocean-themed collars and leashes. This is the latest, BUT NOT THE LAST, in the long line of that tradition.
FOR BOY DOGS ONLY! We have a pink one for your girl pup. Or if you're trying to be a gender iconoclast, knock yourself out and get your girl dog this leash. We support you.
You may also like:
On Sale
Made In Maine

Made In Maine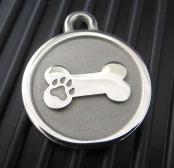 $30.00
Made In Maine

$20.00