Crabs (Burgundy)
1-inch Ribbon Dog Collar
A very crabby dog collar for your consideration.
1-inch wide nylon collar with a brass "D"-ring
Ribbons are stitched to rugged and quick-drying nylon webbing.
Patterns are artist-designed right here in Maine.
Solid brass rings won't rust or corrode.
Durable Wienerlock® quick-release clasp for your dogs safety and comfort.
Machine-washable.
Made in Maine.
The Crab design is one of our best sellers, second only to the Maine Lobster design. We think it's because when a dog finds a crab on the beach, it's one of the funniest dog walk moments ever. At least that's what we think when Max finds a crab. This burgundy collar lends a bit of sophistication to the dog snapping his teeth at the nonexistent threat in the sand.
Fun Fact – One in six crabs on this collar are polka-dotted. Nobody knows why. It just is. Also available in Lime Green with Pink and Navy Blue with Light Blue.
Sizing:
Small (14"-18")
Med. (18"-22")
Large (22"-26")
You may also like:
On Sale
Made In Maine

Made In Maine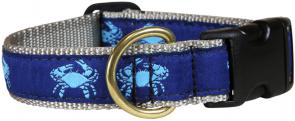 $24.00
Made In Maine
$24.00