Flea and Tick Wipes
For dogs and cats.
No drugs or synthetic chemicals.
No known toxic effects from pets licking treated fur.
Safe for use on puppies & kittens.
Works on fleas, ticks, mosquitoes, and biting flies.
Made in Vermont.
A natural flea and tick repellant formulated by nature. The oils have been used for centuries by the indigenous people of the Amazon forest to keep pests from detecting a desirable scent from their skin thus creating avoidance. Pet Naturals of Vermont's Flea & Tick Wipes do not contain any drugs or synthetic chemicals.
Please read all directions carefully before application. Wipe the pre-moistened towelette on the pet's fur, including legs and stomach, then work into the coat if necessary. Depending on the thickness, type, and length of fur more than one wipe may be required to get the product through the entire coat. Avoid contact with the animal's nose, mouth and eyes when applying on the animal's face. Reapply every 2 – 3 days or as needed before the animal goes outside. Reapply whenever the animal is thoroughly wet. Safe for daily use, if desired. Safe for use on puppies and kittens. Keep wipe pack lid closed when not in use.
CAUTIONS
For use on dogs, cats and horses ONLY.
Keep out of reach of children and animals.
Avoid inhalation and contact with eyes, nose and mouth.
Sensitivities can occur after using any flea or tick prevention program. If your pet shows signs of irritation, rinse them thoroughly, bathe your pet with mild soap and rinse again. If signs continue, consult a veterinarian immediately.
For more information on this product, Click Here.
You may also like: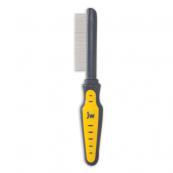 $10.00