Flea and Tick Spray
For dogs and cats.
No drugs or synthetic chemicals.
Safe for bedding and grooming tools.
No known toxic effects from pets licking treated fur.
Works on fleas, ticks, mosquitoes, and biting flies.
Made in Vermont.
Pet Naturals of Vermont's Flea & Tick Repellent Spray offers a pleasant and refreshing smell with clean, non-sticky active ingredients. This product has no known toxic effects from licking the skin. It does not contain any drugs or synthetic chemicals. This is a natural flea and tick repellent formulated by nature and it is safe for use on bedding and could be applied to collars that are able to soak up the oils. The combination of Brazilian oils from certified forests act as a natural shield from unwanted pests. The oils have been used for centuries by the indigenous people of the Amazon forest to keep pests from detecting a desirable scent from their skin, thus creating avoidance.
DIRECTIONS FOR USE:
Some pets have severe allergies. While this product is completely natural, we recommend you test a tiny amount of this formula on a sensitive area (belly) of your pet before use. If the application area becomes red or irritated, discontinue use and consult your veterinarian.
SHAKE VIGOROUSLY BEFORE EACH USE. Please read all directions carefully before application. Spray generously on fur, including legs and stomach and then work into the coat if necessary. Depending on the thickness, type, and length of fur, the spray may require additional rubbing to get the product through the entire coat. Avoid contact with mucus membranes by covering the animal's nose, mouth and eyes when applying near the animals head. Use a cloth or Pet Naturals of Vermont pre-soaked Flea & Tick wipes to apply the product on the animals face. Reapply every 2 – 3 days or as needed before the animal goes outside. Reapply whenever the animal is thoroughly wet. Safe for daily use, if desired. Avoid soaking the animal with the spray. Safe for use on puppies and kittens. Keep cap on bottle when not in use. This spray can also be used on the pet's bedding and grooming tools. This formula is designed to be non-staining, but we recommend testing it on fabric or other surfaces before use.
CAUTIONS
For use on dogs, cats and horses ONLY.
Keep out of reach of children and animals.
Avoid inhalation and contact with eyes, nose and mouth.
Sensitivities can occur after using any flea or tick prevention program. If your pet shows signs of irritation, rinse them thoroughly, bathe your pet with mild soap and rinse again. If signs continue, consult a veterinarian immediately.
For more information on this product, Click Here.
You may also like: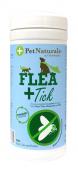 $15.00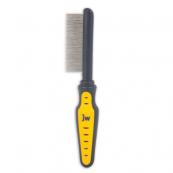 $11.00