Tickle Pickle
Black Magic - 6-inch
Vermont Catnip and Licorice Root.
Licorice Root helps with allergies and digestive problems.
Our Favorite Cat Toy in the Entire Store!
100% Eye-Crossing, High-Potency, Vermont Catnip! NO Fillers!
Helps your Cat decompress after a stressful day of staring out the window.
Extremely Pickle-Like.
Made in Vermont.
The newest Tickle Pickle is stuffed with a delicious blend of organic catnip and licorice root. Not only does it taste good to your cat, licorice root can be used to help kitties with allergies and digestive issues. Licorice root can also squash respiratory issues like colds because it soothes the mucus membranes.
You may also like:
$10.25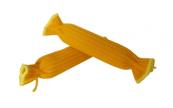 $9.75
$20.50