Hunting Vest
High-visibility Blaze Orange vest.
Reflective stripe for great visibility.
Heavy duty, water resistant shell with rugged stitching.
Comfy mesh liner gives your dog super ventilation.
Two velcro adjustment straps for the perfect fit!
Machine Washable.
Made in Maine.
We used to buy Max, Auggie, and Coal a Cheap-O reflective vests from the giant pet superstore every hunting season. Then we'd have to buy them another. And another. And this one didn't fit right. And the other one fell apart in the washer. We'd end up getting them all several vests every hunting season for a lot of money we could have otherwise spent on treats for Max.
A couple of years ago, we got them all Doggie Safe n Dry hunting vests. Amazingly, they are all still going strong! Of course we have to wash them whenever they find something terrible to roll in or Coal goes swimming in a fetid swamp, but that's definitely not a problem with these vests. And another thing? These vests FIT our dogs. Those other Cheap-O vests that attach to the collar tend to roll over and get all bunched up over the shoulders. And that can drive an otherwise good dog CRAZY!
Handy Sizing Chart: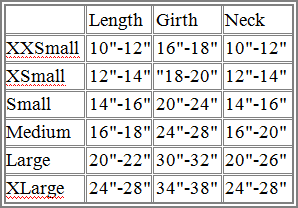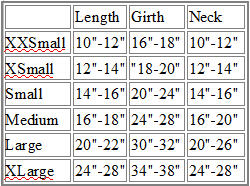 You may also like:
$7.50
$48.00