Spitz (On Chair)
Thick Magnets Measuring 2" x 3".
Over 140 Magnets Available!
64 Breeds!
Unique, Colorful, and Whimsical Depictions of Your Favorite Breeds as well as your Unfavorite Breeds.
We began offering these magnets because the breed depictions are so unique and funny! I mean, look at the "Cavalier (With Jalepeno)", "Pug (Flowers)", and "Weimaraner." And there are over 15 different Labrador magnets. And if you must know, we have "Labrador (Black with Stars)" on our fridge here at the cabin. It reminds me of Coal, and I like to think that he smiles at the stars when I'm not looking.
And these are heavy magnets- not those flimsy, paper-thin ones. These magnets are great for immortalizing stellar homework on the fridge as well as threatening the family member who took the last coffee creamer in said fridge. The magnetism is strong enough to hold up that note telling everyone you're leaving forever or the first dandelion of spring you picked and want everyone to see. And everything in between. It's YOUR choice. Use your Magnet-Selecting-Ability wisely.
You may also like: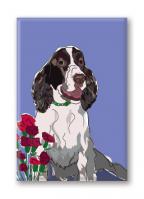 $5.00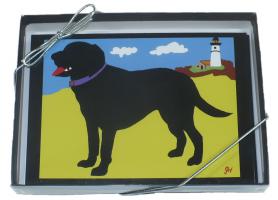 $15.00
Made In Maine
$32.00