Tickle Pickle
Our Favorite Cat Toy in the Entire Store!
Available in 3 Lengths and A Specialty Pickle. Girths are all the same, if you're curious.
100% Eye-Crossing, High-Potency, Vermont Catnip! NO Fillers!
Helps your Cat decompress after a stressful day of staring out the window.
Extremely Pickle-Like.
Read the Write-Up when Tickle Pickles were our Featured Product below!
Made in Vermont.
FEATURED PRODUCT: TICKLE PICKLE & TICKLE GHERKIN
It's about time we did a featured product for cats. Although half our name is Two Salty Dogs, the other half is Pet Outfitters. And it's time for us to honor our Feline Friends. Lest we get passive-aggressively ignored and given icy, sideways stares until we least expect it, then....POW! Claws and hissing all over the place...
What in the name of bungee cords is a Tickle Pickle? And for the love of a bungalow, what is a Tickle Gherkin? Before you report us to the Bureau of Inappropriate Internet Innuendo (BIII), allow us to explain. And for those of you who landed on this page looking for something non-pet-related-- shame on you.
At Two Salty Dogs Pet Outfitters, we get bored with catnip toys. They all seem to be just another manifestation of low-potency, mass-produced catnip stuffed into cheap, foreign-made containers. Sometimes these containers are clever and brightly colored, most of the time not. They last a short time and then more of your hard-earned black-market currency goes towards altering your cat(s) consciousness.
But don't despair!!!! The Tickle Pickle is HERE!!!!
A Tickle Pickle has organically-grown Vermont catnip. But we think it also has a veritable cornucopia of sweet-smelling dried flowers and herbs that Tipsy-Nip isn't telling us. Anyone ever see a cat shred a flowerbed? They like the aroma and texture of the flowers almost as much as a nap and stretch in gentle sunshine. When you put the fresh catnip, flowers, and herbs together.... you've really got something for your cat.
And we admit it. The Tickle Pickle has a fairly bland-looking exterior. It looks like...well... an unexciting pickle. It is a long, green tube stuffed with catty goodness and sewn securely at each end.
But where the Tickle Pickle excels is the material that the catty goodness is packed in. It has a weave that will allow your cat's claws to sink in. This feature, combined with the long, pickle-like shape makes cats clinch it with their front legs and kick it with their back. When the claws of the back legs dig into the material-- it will shoot the Pickle across the room and infuriate the cat. Thus perpetuating a humorous cycle of cat infatuation/infuriation (Editor's Note: infuriation may not be an actual word. And we're too lazy to look it up).
You may also like: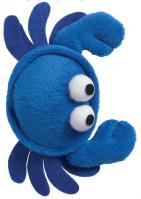 $2.50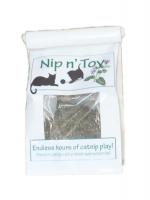 $10.00
$7.00