Disinfecting Floor Cleaner
32fl oz
Pet mess? Don't Mess around! Natures Miracle eliminates stains and odors.
Works on pee, grass stains, mud, vomit, and a host of odors!
Works on carpets, hard surfaces, clothing, kennels, and carriers.
Bio-Enzymatic formula breaks down odors, doesn't just cover them up.
No sticky or dulling residue on hard floors
No build-up, non-abrasive, no rinsing required
32oz Spray Bottle.
Nature's Miracle brand Disinfectant Floor Cleaner cleans beyond the surface. This fragrance free formula does not require rinsing, contains 100% biodegradable surfactant, is non-abrasive and is clear drying. Good for use with microfiber cloths, prevents mold & mildew on hard surfaces with no harsh chemical smell or residue. Will not harm natural stones: granite, marble, and travertine.
AREAS OF USE INCLUDE:
Homes, boats, veterinary clinics, pet shops & grooming facilities, tack shops, breeding establishments, kennels.
USE SITES:
Polyurethane coated hardwood floors, glazed ceramic tile, natural stone (Granite. Marble & Travertine), linoleum floors, painted wood, laminate, & sealed concrete.
DIRECTIONS FOR USE:
It is a violation of Federal Law to use this product in a manner inconsistent with its labeling. Test fabric for color fastness. Contains a dilute oxidizing agent. Do not mix with vinegar or acidic cleaners. Always refer to manufacturer's care instructions before using product with equipment or devices. Remove or carefully protect all food and food packaging materials prior to treatment. Remove all pets from premises. Allow to air dry. Ventilate closed spaces. Do not house pets until treatment has been absorbed, or dried.
Pre-Cleaning Instructions:
Remove gross filth and heavy soil by cleaning. Spray Product straight onto soils, scrub and wipe clean with a dry paper towel or cloth.
Cleaning Instructions:
For cleaning floors, add one (1) cup Product per gallon of water in bucket and clean with sponge, mop, or pad. For spot cleaning, spray and wipe clean with damp sponge, mop, or cloth.
DEODORIZATION:
To Deodorize: Product works by oxidation, not by masking of odors. Eliminates odors caused by fire smoke, tobacco smoke, musty odors, stale-cooking odors. Simply spray or wipe on full strength and let air dry to provide long lasting residual deodorizing action. Product must come into contact with the cause of the odor to be effective.
DISINFECTION:
To Disinfect Farm Premises, Poultry Houses, Animal Pens & Vehicles: Remove all animals and feed from premises, vehicles, and enclosures.Remove all litter and manure from floors, walls and surfaces of barns, pens, stalls, and other facilities and fixtures occupied or traversed by animals. Empty all troughs, racks, and other feeding and water appliances. Thoroughly clean all surfaces with soap or detergent and rinse with water. Saturate all surfaces with product for a period of 10 minutes. Immerse all halters, ropes, and other types of equipment used in handling and restraining animals, as well as forks, shovels, and scrapers used for removing litter and manure. Allow to air dry. Ventilate buildings, cars, boats, and other closed spaces. Drain any pooled product and/or rinse standing product with potable water. Do not house livestock or employ equipment until treatment has been absorbed, or dried.
To Disinfect Hard Non-porous Surfaces:
For disinfecting pre-cleaned hard non-porous surfaces such as glass, plastic, painted wood, laminate, chrome, stainless steel. Types of items include: appliances. bed frames. cabinet handles, counters, doorknobs, tables, tubs, exterior toilet surfaces, faucet handles, handrails, keyboards, light switch covers, patio furniture, showers, sinks, stovetops, telephones, pet toys, walls, waste containers. Apply product full strength to pre-cleaned hard non-porous surfaces, wetting thoroughly with spray, sponge, mop, or by immersion in solution. Allow surfaces to remain wet for 5 minutes for virus inactivation - 10 minutes for bacteria disinfection. For immersion replace solution daily, or more frequently if it becomes significantly soiled or diluted.
HARD SURFACE SANITIZATION NO RINSE REQUIRED:
30 SEC CONTACT TIME
Escherichia Coli (ATCC 11229), Staphylococcus aureus (ATCC 6538)
MILDEWSTAT: 10 MINUTE CONTACT TIME
Aspergillus Niger ATCC 6275
DISINFECTION BACTERIA 10 MINUTE CONTACT TIME
Pseudomonas Aeruginosa ATCC 15442, Acinetobacter baumannii ATCC 19606, Staphylococcus aureus MRSA ATCC 33592, Listeria monocytogenes ATCC 15313, Legionella Pneumophila ATCC 33153, Salmonella enterica ATCC 10708, Staphylococcus aureus ATCC 6538, Klebsiella pneumoniae (NDM-1) ATCC BAA-2146, Escherichia Coli ATCC 11229
DISINFECTION VIRUS 5 MINUTE CONTACT TIME
Rotavirus, Strain WA, Norovirus (Feline Calicivirus as surrogate), Swine Influenza (H1N1), Respiratory Syncytial virus, ATCC VR-26
For more information on Nature's Miracle, Click Here.
You may also like: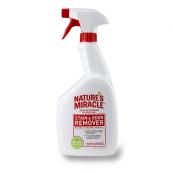 $11.75