Boothbay Harbor (Silver)
1-inch Ribbon Dog Leash
6ft long x 1-inch wide.
Ribbons are stitched to rugged and quick-drying nylon webbing.
1)Fat, Happy Crabs, and 2) Happy Lobsters.
Patterns are artist-designed right here in Maine.
Brass swivel snap hook won't rust or corrode.
Machine-washable. Line dry.
Made in Maine.
Don isn't the slightest bit modest about having designed the pattern on this leash. Go ahead, ask him about it if you see it on Coal in the shop, the sweetest little old man with the happy crabs and lobsters. Best part? It commemorates your time in Boothbay Harbor. Also available on red nylon webbing like Auggie wears.
Available in a matching collar!
You may also like:
Made In Maine
$24.00
Made In Maine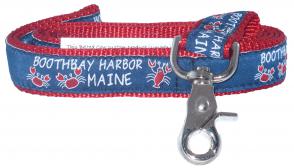 $30.00
Made In Maine

$28.00