Lobster Roll Dog Treats – 8oz Bag
Maine-sourced lobster! There's some other stuff in it too.
Baked in small batches.
Wheat, Corn, and Soy Free
Only 4 Human Grade Ingredients.
No Preservatives, chemicals, by-products, fillers or broth.
It's only fair if you lock your dog in a kennel to come up to Maine and stuff yourself with lobster that you bring some back for your poor, suffering pooch.
100% sourced and made in the USA.
Description

Ingredients

Guaranteed Analysis
Bocce couldn't resist this classic New England treat.
We've sourced our lobster locally from Maine, added nutrient packed kelp, and lots of parsley to avoid an embarrassing case of the stinky-pup-kisses. Our treats are all wheat-free with fresh, human-grade ingredients perfect for pups with allergies or sensitive bellies. Baked in small batches with no chemicals or preservatives.
You may also like: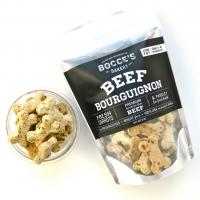 $9.75
Made In Maine

$24.00

$14.75