Salty Biscuits
Big Buddys Honey and Oat
Big Buddy Dog likes these even more than playing High Five.
Should really be called "Buddys Honey and Oat and Vanilla Treats"
All the honey and oats and vanilla a reasonable dog could want in a treat
Has Big Buddys seal of approval
Made from Human-Grade ingredients
For the big dogs. Unless you possess vise-like strength in your hands to break them into little bits.
Lab tested and approved
Description

Ingredients

Guaranteed Analysis
There are several vicious rumors swirling around that I will use this forum to disspell.
YES, we do call him "Big Dumb Buddy" in the sanctity of our home. Lots of you out there will think this is cruel, and express your disgust as to how I could do this to a 12-year-old. But I assure you it is with heartfelt love. For example, we sing this song to him when he crawls up onto the couch and drops his massive body on our unsuspecting limbs:
He's a big dumb Buddy Dog,
Buddy Dog,
He's a big Dumb Dog!
And quite frankly, he's not upset with it. In fact, he likes it. Grow up, people. Grow up and buy his biscuits.
Treats are roughly 1-1/2" in diameter x 1/4" thick.
These treats are NOT heart-shaped. If this is an emergency and you need heart-shaped treats, please click here.
You may also like: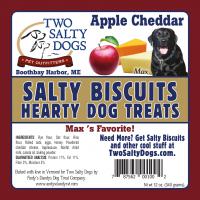 $15.75
Made In Maine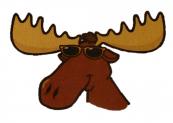 $10.00